Nitrex employees are the fabric of our business, working together to drive evolution and to deliver solutions and services with genuine care. Some are familiar faces in the industry, others are only known by voice or email. The "Meet the Team" series aims to put the spotlight on the awesome men and women behind the company – the ones who make it all happen.
This month, we introduce you to Lilia Jasso, Administrative Manager at Nitrex Queretaro, and the recently elected President of the ASM Mexico Chapter.
Q. Let's begin with your background. How did you come to be part of the heat-treating industry and end up as Administrative Manager of Nitrex Queretaro?
I was born in Mexico City, and my professional career started in the textile industry working in administration. In 2013, I sought an opportunity that involved moving to Querétaro and working for a multinational company that was opening a new plant in Mexico. And so, began my start at NITREX and my foray into the world of heat treating, materials science, and engineering.
During the construction of the new site, I was involved in coordinating the building construction team and supporting human resources with recruiting. Interestingly, I applied my educational background in construction systems and organizational psychology to help tackle the more challenging tasks. My administrative responsibilities at that time were further expanded to support purchasing management and government compliance.
In the ensuing years, my management skills have led me to oversee building improvements and facility management, purchasing and government compliance, environmental management, and human resources. My role as an Administrative Manager is truly an all-encompassing one and taps into many areas of our business operations.
Q: Take us through your responsibilities on a given day as an Administrative Manager?
My typical workday is varied, challenging, and fun but usually passes between compliance regulations, HR initiatives, health, safety, security, and environment plan reviews, and facility projects along with maintenance. I have a team of 4 professionals under my direct supervision, team players who are highly skilled, hardworking, and strive for maximum performance. I am very fortunate to connect and collaborate with this awesome team during both work and off-hours.
Q: How did your position at Nitrex Queretaro build on your responsibilities at ASM Mexico?
Four years ago, during the inaugural ASM Heat Treat show in Mexico, I met Jeanelle Harden, the Global Conference Manager for ASM International. We talked about the importance of companies in Mexico getting involved with ASM and taking the lead in sharing learning resources and expertise. A few months later, I received a follow-up call from Jeanelle inviting me to participate at a Mexico Chapter meeting as a special guest speaker and to present some of my ideas that we had discussed months earlier.
During the organization of the ASM Heat Treat in 2018 and 2020, I was invited again to contribute my ideas on the technical sessions and was proud to see some of them gain real momentum. What followed was the launch of the first joint conference and exhibition in México to bring real added value to attendees with the technical courses obtaining Official Validation by the Secretary of Labor. These positive changes really took-off, increasing the active attendance of professionals from the industrial sector as well as getting extensive coverage by the news media. Consequently, a new level of technically focused events was established in Mexico.
Q: Describe the qualities, traits, and experiences you have that relate to your new position as the President of ASM Mexico?
I relate to the fundamental values of ASM International, and my experience of almost 20 years in different industries has taught me the importance of "sharing information". Whether you're an IT enterprise or a small machine shop, sharing information is important for everybody. It creates high-performing teams and can make the difference between success and failure.
Adding this to my participation in regulatory compliance and process mapping at a senior management level results in a highly motivated, strategic, problem-solving, and committed manager. Somebody who recognizes the skills and potential of people and synergizes their strengths to solve problems, find new solutions (technical or not), and achieve growth in the area of engineering. Whether at Nitrex or ASM, my role is fundamentally the same – unite, support, and promote collaboration to allow for knowledge exchange.
Q: What are your responsibilities as President of ASM Mexico?
Mexico is a country of entrepreneurs comprising of people with brilliant ideas and a younger generation motivated to be entrepreneurs. However, we urgently need to promote better levels of engineering and technical knowledge. In this light, the objective of the ASM Mexico Chapter is clear: advance academic, technical, and engineering knowledge, while creating a network of facilitators to share and support the next generations, thereby increasing our scope and reach into the global industrial market.
Q: What are the challenges facing ASM in Mexico as well as the local heat-treating community and what is being done to overcome these issues?
We need to raise awareness of the distinctive value of ASM, especially its open access to scientific, technical, and engineering know-how and resources. At the present, potential users are unfamiliar with the kind of information that ASM International has to offer.
The focus now is to boost the crucial role the ASM Mexico Chapter plays in providing solid and accredited sources of information to its members and the community we serve, and not limited to the El Bajío area (Querétaro, Guanajuato, San Luis Potosí, Guadalajara, etc.) but nationally. And the way to do this is by organizing more technical sessions, getting more professionals on board to share their knowledge, and bringing more members into the fold to strengthen the pipeline. It truly is a virtuous circle.
Many engineers with rich academic backgrounds in Materials Engineering are willing to collaborate with our chapter; this fact, coupled with experienced engineers already involved with the chapter, makes ASM the perfect bridge to enable knowledge transfer. We want all audiences in Mexico to benefit from these specialized training materials. We have an ambitious synergy plan with associations, clusters, and institutions to bring industry, media as well as academia onboard and together scale-up learning initiatives and information access nationwide.
Q: Where do you see the ASM Mexico Chapter in a year from now? What objectives would you like to achieve in your tenure as the President? What is your vision for the direction of the association?
A: Let me start by saying that the new ASM Mexico Chapter growth plan under my direction ends in 2022. So, over the next 2 years, I plan to re-engineer the Chapter from within by strengthening its very foundation. The new executive committee is presently working on creating a larger base of new associates, solidifying alliances, and preparing a solid ground for new collaborative bodies and methods to position ASM International Mexico Chapter as the single most reliable source covering all aspects of material sciences for the Mexican industry.
Q: What advice would you give women who want to pursue a similar career path in heat-treating?
Let us leave such divisions for another time. The reality is that work teams in our company and this industry are made up of both men and women, and together we work with a collaborative mindset. Only when we stop seeking to attack and focus instead on unifying forces will our efforts be rewarded.
FIVE RANDOM QUESTIONS:
What is one thing people may not know about Lilia Jasso?
I'm not an engineer. Companies are made of various people with different skill sets, and you don't have to be an engineer to manage teams. I truly love my job.
The best piece of advice you've ever received.
When you think about the brake, use it! A line my brother repeatedly used when I was learning to drive. This holds true in every aspect of life. If you are considering doing it, don't hesitate, just do it.
What is something people might not know about Nitrex Queretaro?
We have a great and committed team who are experts to our customers. Customers who rely on us to push the boundaries of what's possible in heat treating. This awesome team overcomes challenges with diligence and ensures compliance with industry standards.
Do you have a motto?
Now means now.
What three words would you use to describe Lilia Jasso?
Committed, driven, and realistic.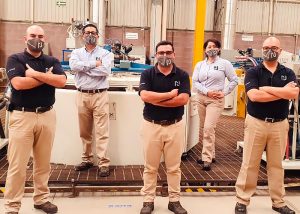 The Nitrex Queretaro Management Team (from left to right) – Manuel Argüelles, Finance Manager;
Jorge Ramírez, Quality Manager; Ricardo Vargas, Operations Manager; Lilia Jasso, Administrative Manager; Carlos Llerena, Plant Manager.